About Edmonton Bath Products Bathroom Store
Edmonton Bath Products is a Locally Owned, Family Owned Bath & Shower Company
Our business is staffed locally. Owners Darcy Wilkie, Kevin Coney and Brett Lobreau have a vast experience in the cast polymer industry, Darcy with Okanagan Marble a family owned business in Kelowna BC and Kevin with Island Marble a family owned business in Victoria BC, Brett has 13 years experience with the company in both sales and installations. Darcy, Kevin and Brett are committed to using only the finest quality materials and with a devotion to craftsmanship like no other. While with Island Marble Kevin won the International Cast Polymer Alliance annual Pinnacle Award for The Most Innovative Use Of Solid Surface Material. This is the first time a Canadian company has won this award.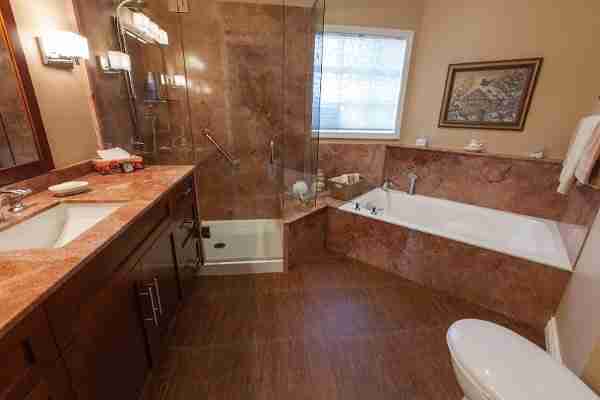 Edmonton Bath Store – Edmonton bath Products Ltd.
If you walk through any major home improvement store, you will find a section that sells plumbing supplies, bathtubs and shower stalls, and related fixtures and accessories. Some of the time, there is even a person who will sit down with you and talk about the possibilities available in your own bathroom, and you can schedule installation services. However, if you walk an aisle over, you'll find someone else selling flooring installation services, and a few aisles after that, you can contract someone to paint the inside (or outside) of your house.
While this might sound convenient, working with these consultants has its risks. While the sales representative might represent a quality product, frequently he is standing in for a third-party company that handles the installations. Also, you may have to wait for the materials to be shipped from somewhere else in Canada — or even another country. The management of the home improvement store only has a tenuous agreement with the third-party company, leaving you high and dry if you need quality customer service at an inconvenient time. After all, when something goes wrong in the bathroom, it generally goes wrong in a hurry — and can involve a lot of water damage if things aren't fixed right away.
When Edmonton Bath Products, Ltd. opened in 1979, our mission was to make all of the steps of the bathroom installation and renovation process local and easily accessible. We manufacture all of our products in house, and then our own service technicians deliver them to your site and install them in person. We also handle any of the plumbing-related adjustments to your existing bathroom when necessary. That way, in the rare instance that something does go wrong, you only need to place one call to get the situation rectified the first time. You're not calling the manufacturer of the tub, and then the guy who drove in from Vancouver to install the tub, and then the plumber who came out to tweak the pipes coming from the wall, in order to fix that ghastly leak that is about to ruin the tile you just had laid.
We offer a wide variety of sinks, shower stalls, shower bases and bathtubs for our clients, and we work with both homeowners looking to finish out their new construction as well as people who want to overhaul their bathrooms for a completely new look. We manufacture a wide variety of polyester-based fixtures as well as cultured marble, giving our customers a wide variety of options when it comes to creating a new decor.
Here's how the process works. After you contact one of our bathroom renovation specialists, we will set a time with you to come out to your home and take a look at what you want to do with your existing bathroom. If you're dealing with new home construction, you can come into our store with your plans, and we will make recommendations as to the best decorative choices in your new home, keeping your budget in mind as well.
After we've come to an agreement on what you want to do with your bathroom, we will put together a written estimate of the costs involved and the time that we will need in order to complete the installation for you. Once we've agreed to terms, we will schedule an installation date for your new items. We are committed to completing the installation in the time allotted — and for the amount that we promised, if not even less.
We promise all of our clients complete satisfaction with the installation process. This includes a warranty on the sinks, showers, tubs, and any other fixtures or accessories that we put into your bathroom. If you are not satisfied with our work for any reason, give your consultant a call, and we will come out to your house to remedy the problem. We promise to help you until you are happy with our work.
We realize that putting in a new bathroom, or adding pieces to an existing one, represents a significant financial and emotional investment. We take each contract as a personal request to give our utmost in creating a new look in your bathroom for you. We look forward to serving you and helping you get the bathroom you've always wanted!