About Edmonton Bath Products Bathroom Store
Edmonton Bath Products is a Locally Owned, Family Owned Bath & Shower Company
Our business is staffed locally. Owners Darcy Wilkie and Brett Lobreau have a vast experience in the cast polymer industry, Darcy, with Okanagan Marble, a family owned business in Kelowna BC and Brett has 20 years experience with the company in both sales and installations. We are committed to using only the finest quality materials with a devotion to craftsmanship like no other!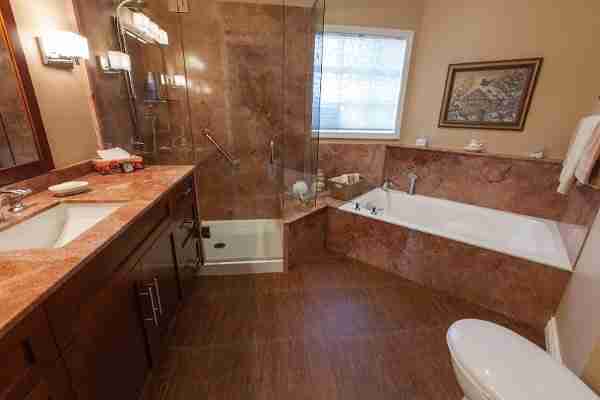 Our Mission
Our Process
Benefits
Why Choose Edmonton Bath Products Ltd.
Our Mission
When Edmonton Bath Products, Ltd. opened in 1979, our mission was to make all of the steps of the bathroom installation and renovation process local and easily accessible. We manufacture all of our products in house, and then our own service technicians deliver them to your site and install them in person. We also handle any of the plumbing-related adjustments to your existing bathroom when necessary. That way, in the rare instance that something does go wrong, you only need to place one call to get the situation rectified the first time. You're not calling the manufacturer of the tub, and then the guy who drove in from Vancouver to install the tub, and then the plumber who came out to tweak the pipes coming from the wall, in order to fix that ghastly leak that is about to ruin the tile you just had laid.
We promise all of our clients complete satisfaction with the installation process. This includes a warranty on the sinks, showers, tubs, and any other fixtures or accessories that we put into your bathroom. If you are not satisfied with our work for any reason, give your consultant a call, and we will come out to your house to remedy the problem. We promise to help you until you are happy with our work.
Our Process
Benefits
Why Choose Edmonton Bath Products Ltd.
Edmonton Bath Store – Edmonton bath Products Ltd.
We offer a wide variety of sinks, shower stalls, shower bases and bathtubs for our clients, and we work with both homeowners looking to finish out their new construction as well as people who want to overhaul their bathrooms for a completely new look. We manufacture a wide variety of polyester-based fixtures as well as cultured marble, giving our customers a wide variety of options when it comes to creating a new decor.
We realize that putting in a new bathroom, or adding pieces to an existing one, represents a significant financial and emotional investment. We take each contract as a personal request to give our upmost in creating a new look in your bathroom for you. We look forward to serving you and helping you get the bathroom you've always wanted!