Bath & Shower Installation Procedures
Bath & Shower Panel, Bath Accessory Installation Procedures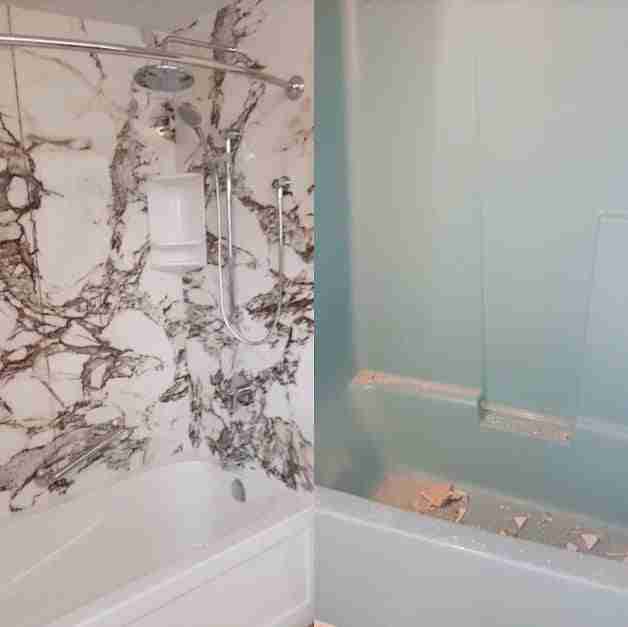 Required Tools:
Circular saw with an abrasive masonry blade

Jigsaw with coarse wood blade

Drill with regular steel bits & bi-metal hole saws

Caulking gun

Clear mildew-resistant silicone(for adhering panels on walls

Translucent mildew-resistant silicone for interior joints

4ft level

China marker

Tape measure

Drywall square or straight edge
Bath & Shower Installation Instructions
For panel trimming:

Use the circular saw with abrasive masonry blade. Set up a ¾"- 4' x 8' sheet of plywood on saw horses. Hang over the edge of plywood the side you are trimming. Panel should be face up. Use the china marker to draw lines on the panel. Slightly angle the saw so the foot does not drag on the face of the panel. Cutting backwards keeps the dust from accumulating on your line. Keep your fingers under the foot of the saw to ensure it does not drag on the panel causing scratches.
For plumbing fixture holes, use a drill with the bi-metal hole saw. Drill holes right on the plywood so you have backing. Holes for glass enclosure can be drilled with regular steel bits. Apply steady pressure when drilling but let the bit do the work.
DRY FIT ALL PANELS. Apply big buttons(blobs) of silicone with about 15" spacing between silicone buttons(blobs)on drywall then put panel in place and press everywhere on panel on the wall. When all panels are in, silicone vertical and horizontal interior joints with a small bead of silicone and use finger to press silicone into joints, removing excess frequently.
Corner Soap Dish Installation
Hold support block in position where you want the soap dish installed. Drill a 1/8" hole through support block and wall panel at a down ward angle(like nail for picture). Make sure to go through block & wall panel. Screw a #8 x 2-1/2" screw through holes till block is snug against wall. Mount soap dish on block and silicone all joints where soap dish meets wall.
Corner Seat Installation
Cut 3 trim pcs at desired height. We usually plan on having the seat about 19" high from top of seat to base. Silicone 2 on to wall vertically at about ½" back from edge of seat and 1 into corner. Apply 3 circles of silicone on back of each side of seat and place onto support trims and press into place against wall. Silicone all joints where trims and seat meet walls.
Bath Tub & Shower Base installation
Tubs & bases are placed right on floor against studs. Shim to level where necessary. Spray low expansion foam into voids under tub & base. Do not use plumbers putty for drains. Use only silicone. Ensure the base or tub is as close to level as possible. This will make panel installation easier.